I was thrilled to be featured again on GMA 7's Unang Hirit and GMA News Channel's On Call last November 17 and December 01, respectively. I made 3 kinds of DIY wreaths for the shows: Plastic Spoons, Fabric Scraps, and this:
DIY: Old Book/Paper Wreath
Budget: Low
Difficulty: Average
Materials: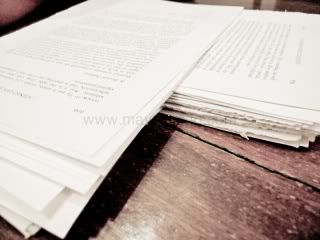 - Old book pages/papers cone shaped, pref. 8"x10", around 120 pieces
- Tape to hold the cones in place.
- 9"x12" styro/foam board
- Glue gun and sticks
- Scissors
- Stapler
- Binder clip and string to hang the wreath
- Ornaments or other decorative pieces for centerpiece
How to do it!
On your foam board, draw a dot in the center and 2 circles - 4" and 8".
Before you start gluing, staple each cone 1" above the tip; make sure the tip is centered.
To make your lines straight, begin gluing the cone at 12:00 o'clock, 03:00, 6:00, and 9:00. Take note of your center dot. Fill the entire 8" circle with cones by gluing the staple to the line.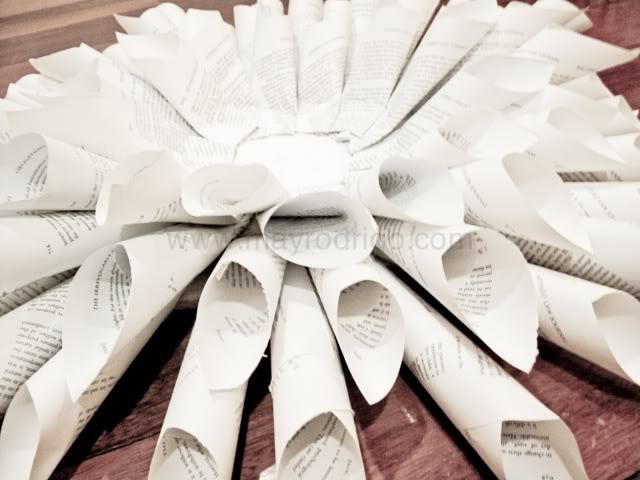 Add a second layer by filling up the entire 4" circle with cones, and a third layer on the center dot then press them all down.
Once you're done gluing all the cones onto the foam board, you need to create the focal point of the wreath. You may use small decorative pieces like flowers, balls, pods. Here I used small Christmas ornaments. Just make a small mountain of those in the middle using a glue gun and you're (almost) done!
To hang the wreath, put a binder clip and string in the back, top-most center of the foam board.
.
.
.
Then hang it! Done in 30 minutes!
<3